Strait of Gibraltar: Ferry boat from Spain to Morocco
In this post you will get to know the boats, called Ferry Boats that arrive in Morocco from Andalusia.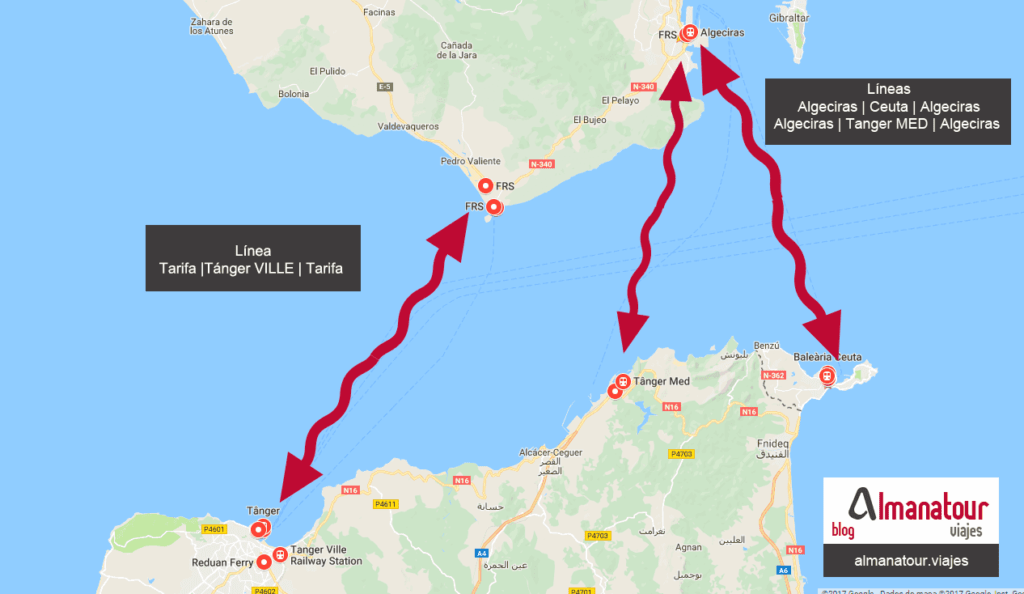 Where is the Strait of Gibraltar
It is a part of the Atlantic ocean and the Mediterranean. With deep water, it separates Europe from North Africa. Here's more about him on Wikipedia.
HOW TO CROSS THE STRAIGHT OF GIBRALTAR
There is only 1 port in the city of Tangier. It is called PUERTO DE TANGER VILLE .
Departure to this destination is made in Spain through the PORT DE TARIFA .
There are two companies currently making this journey. FRS and Intershiping , each with their own schedules and prices,
In 2015, a cargo port (which also carries some passenger crossings) started operating, which is called PUERTO TANGER MED and is located 40 minutes from Tangier, in the middle of nowhere.
That's why some transport companies offer Fast Ferry tickets to Tangier MED very cheap, but be careful, when you get there it will be a mess to get to Tangier. Unless you have arranged a private transfer service, you will have no problem.
If you want to leave the Port of Algeciras, there are other ferry companies that make this journey:
Baleária, Acciona, in addition to FRS and Transmediterránea
I recommend that you check the prices on the companies' website as they offer specific offers.
How to book a ferry to Morocco from Spain?
It's very easy to book the ferry , have your passport and your car details (in case you board) for the shipping company's website, but first read our recommendation below, the trip will be much cheaper.
Recommendation:
Before booking, check out some of Almanatour's offers: 01 day excursions from €79 and Weekends in Morocco from €145. Morocco 3 days from 185€
Board a tourist car on a Ferry to Morocco
The same procedures for a booking for one person. Just don't forget that prices are often high.
It depends on the number of days you will be better off leaving the car in Algeciras or renting a car in Morocco
In Ceuta there is a Rent a Car company in Porto that allows you to enter the rented cars to Morocco. Almanatour can see this for you.
Crossing the Strait of Gibraltar
Stamp your passport: entering and leaving Morocco
On the Ferry from Tarifa to Tangier, you should look for the police ticket office to have your passports stamped. I recommend doing it as soon as you get on the boat because there are a lot of lines. From Algeciras to Ceuta there is no ticket office because you will not change the country.
This will also interest you:
Recommendations for traveling to Morocco
Morocco: Documents and Travel Visa
Cheap deals to get to know Morocco
Strait of Gibraltar Travel Package