Jardin Majorelle, why it is a must-see destination in Marrakech
Address :
Rue Yves St Laurent By A-Maps? Marrakesh 40000, Moroccan
Hours : daily open from 08:00 to 17:30
Founder : Jaques Marjorelle
City : Marrakech
Inauguration : 1931
If you are going on a trip to Morocco, and particularly if you are going to Marrakech , the Majorelle Garden is a stop that you cannot miss, a fabulous botanical garden with a formidable history and attractive details that we will explain to you below.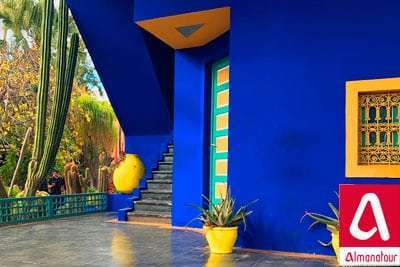 The spectacular Majorelle Garden
To truly enjoy the Majorelle Garden, you have to have your senses wide awake, and also a special taste for art and details; something that is not complicated either if you let yourself be carried away by the magic of its corridors, considered the Top rated tourist attraction in Marrakech.
The history of this place is legendary, for more than a century it was already a beautiful palm garden, but since Jacques Majorelle bought it in 1922, began to transform it into something else, starting with the importation of a great variety of plants that he brought from his travels around the world.
Of course, Jacques was not just any owner, he was the son of Louis Majorelle, who was the famous artist who created the Art Nouveau movement, a well-known trend that emerged in the Gallic city of Nancy.
With this influence, Jacques ordered to build a chalet with a modernist art deco style designed by the architect Paul Sinoir, who also painted a blue so vivid, attractive and original, that it eventually became a new color, Majorelle blue. , widely valued in artistic environments.
Majorelle's intention was to create what he called a "living painting" , which is why he opened the doors of the garden to the public, so that they could know and admire this spectacular place with plant species from all over the world, and an eccentric architecture that also has influence of various cultures.
The transformation of the Majorelle Garden
For the decade of the 60's, with the death of its owner, the garden entered a period of decadence, it would be until 1980 that the renowned fashion designer Yves Saint-Laurent , who was the heir to the throne of Christian Dior, together with his partner Pierre Bergé, acquired Majorelle, with the intention of revitalizing it.
And boy did they succeed, from the outset they maintained that spirit of admiration for eccentric plant species, and practically doubled the variety. They also adapted part of the buildings to install a museum with an exquisite collection of Islamic art.
It is very close to the center of Marrakech, and there is also a memorial in honor of Yves Saint-Laurent, who passed away in 2008.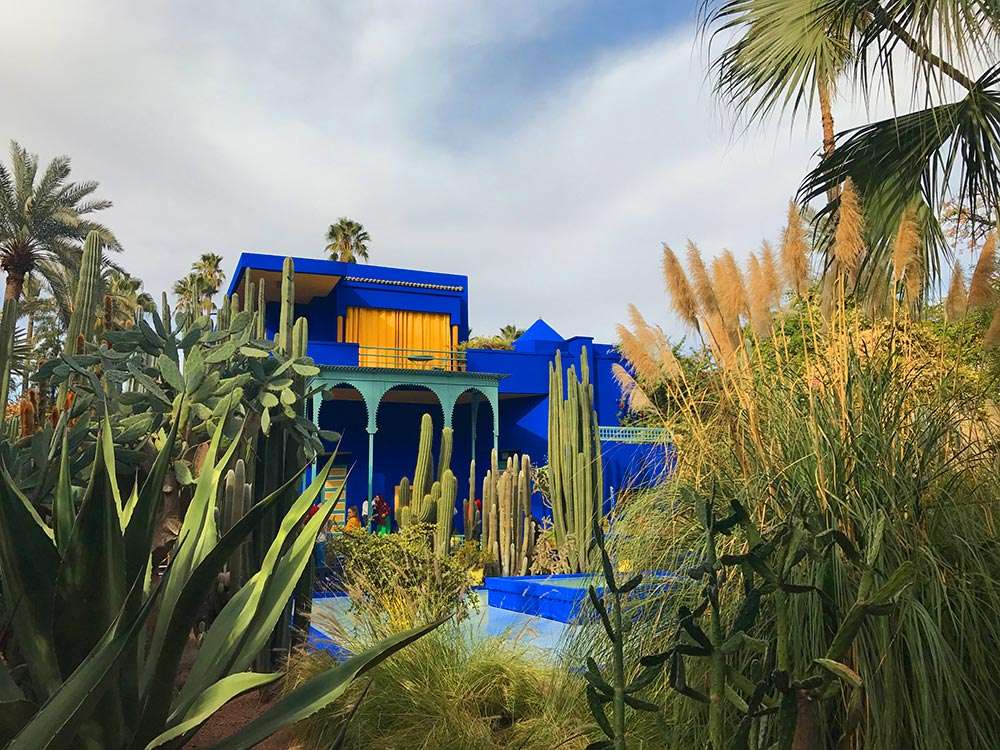 Recommendations for the Majorelle Garden
The Majorelle Garden is a magical and enveloping place, although there are some factors that could put you in a bad mood, which could ruin the experience. It is best to visit it during the first available hours of the day, and not only because of the heat, but because many times after 10, the flow of people begins to grow, which not only complicates taking clean photos inside, but can cause stressful lines of people.
Entering at the right time, you can enjoy with greater calm and tranquility, this place that expresses precisely a relaxing environment, where aromas, colors and an artistic style that pervade the place converge, promoting a captivating and unforgettable experience.
More information :
What to do in Marrakech?
Morocco guide