Knowing Fez in Morocco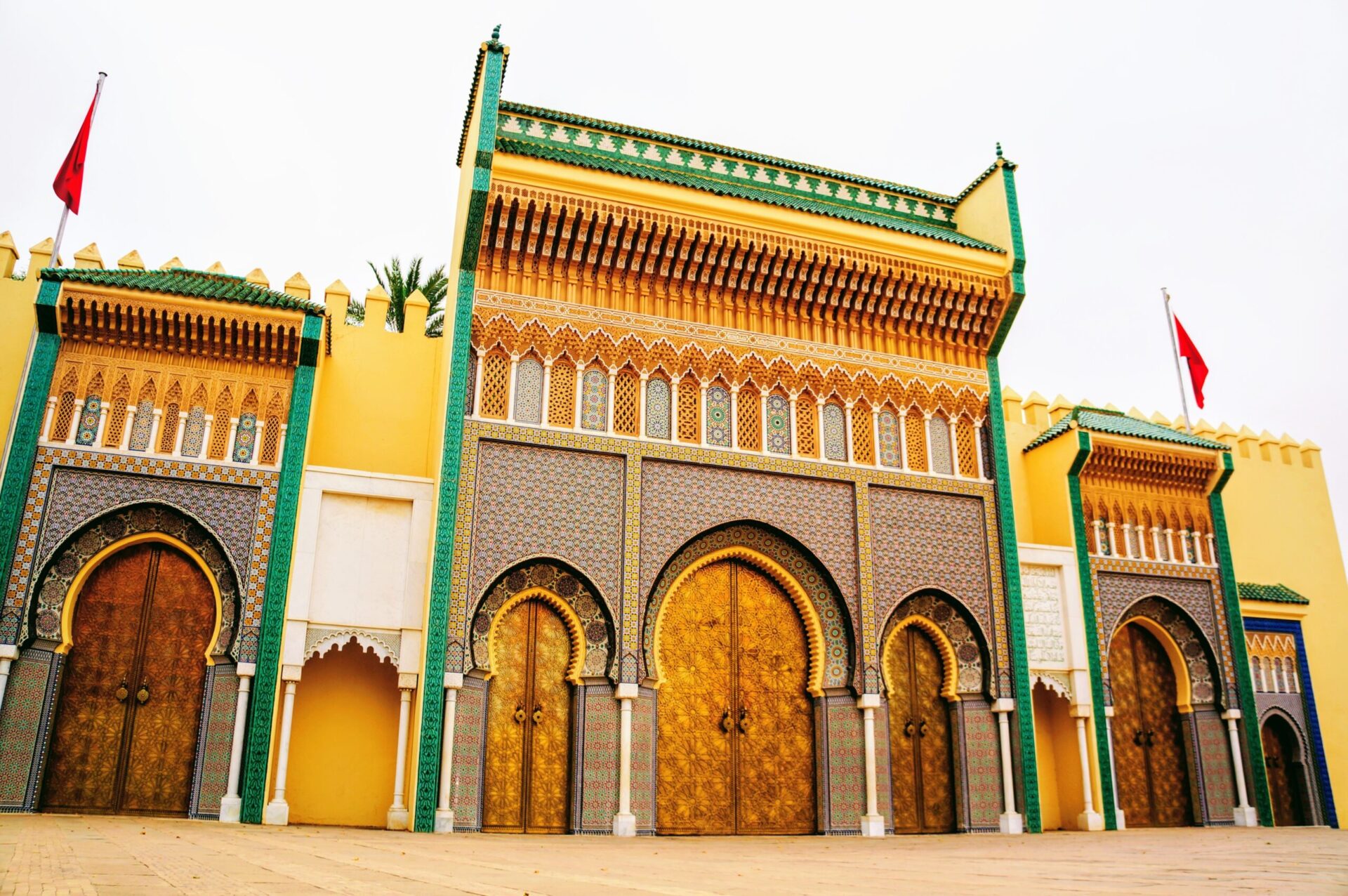 Fez Morocco is a charming city with several points that must be visited, such as labyrinthine, medieval, mysterious, ancient and surprising. Do you know what to do in Fez Morocco ? We'll describe a little of what you need to know to get to know this city.
Its attributes are characterized by being an exotic place, different and that each year gains popularity among tourists. Fez has gradually become the second favorite tourist destination for foreigners.
Fez is the oldest city in Morocco, followed by Marrakesh , considered the most visited city in the country. Full of riches and mysteries in every corner, it becomes an excellent option to live new experiences.
What you need to know to have a pleasant trip to Fez
what to do in fes
What to visit in Fez
Transport in Fez
Fez cuisine
Sights in Fez
What to do in Fez: the cultural, religious and spiritual capital
Fez is a city that has remained intact since it was founded at the end of the 8th century. It has a population of 1,968,150 inhabitants, according to the 2010 census it is known as the imperial city, along with three others such as: Marrakech, Meknes and Rabat.
Within Morocco, it is known as a cultural and religious city. It has the most famous university for Arab students and the Muslim religion. This makes it a must-have space for the local student community.
Fez is divided into three zones; The first is " Fès el-Bali ", it would be the oldest region, the Medina, the oldest within the walls. The second " Fès el-Jdid ", a new space where we can find Mellah Jewish quarter. And the third is called Ville Nouvelle , the largest area of Fez, created by the French colony.
It is important to note that Fez el-Bali is the largest Medina in the world and was declared a World Heritage Site in 1981 by UNESCO.
Fez Morocco has its own airport called Saïss .
There are 4 / 5 or even 7 days itineraries where you can visit Morocco and the city of FEZ
Why travel to Fez?
What motivates tourists to get to know Fez Morocco is its medina and a unique place, different from which there is no equal in the world. But another question automatically arises what to see in Fez ? The answer is simple: a little bit of everything.
You can sit and drink coffee in the souks of Fez el-Bali or on the terraces of Ville Nouvelle, visit the world's oldest daaras, observe a path of artisans doing the work, and observe passers-by, locals, their customs or simply enjoy a unique cuisine.
Fez is considered an open-air museum, in other words, each space is necessary to observe and dedicate time. In this city you can live a unique story, around a magical world far from the "normal".
What predominates in this area are spaces filled with spectacular rugs and light fixtures. In the locality you will live a moment of unique and incomparable adventure.
Another reason you should get to know Fez Morocco is its religion. This area is a pioneer in Muslim worship and has one of the oldest universities in the world.
In the architectural field, Fez represents a good place to combine the city's daily life with art. It has adobe and brick walls, patios of different heights and tiled pillars.
What to visit in Fez?
One place you should know is the tannery. Despite being a place where the smell can generate displeasure, the color combination is magical.
In these spaces the hides of lamb, ox, goat and camel are processed.
The colors give the city a different perspective than the view around it. They are based on pits filled with natural dyes.
Royal Palace of Fez
The Royal Palace of Fez is a very old and large structure in the country.
Due to its magnitude, it was built outside the city, giving rise to the new medina.
This area is also known as Fez el-Jdid . This enclosure was built in the 14th century.
How to get to Fez Morocco?
There are several options to get to Fez Morocco and enjoy each means of transport. Fez is located in the center of the country and is the second most visited city in Morocco. Thanks to the increasing popularity of this city, the expansion of the airport is expected to attract more tourists to the city.
Travel by plane
If you want to arrive by plane, Fez has an airport called Saïss, located west of the city. This airport allows a quick and direct connection to other places near Fez, allowing you to know even more.
There are flights from Lisbon and from Seville in Spain to Fez Morocco.

There are excellent 4×4 tours starting in Fez, passing through the desert of Morocco and ending in Marrakech
After arriving by plane, you can take a bus that connects the city to the airport. The best known and fastest is the "Shuttle bus", an express service costing 20 dirhams. There are cheaper lines that charge 3.5 dirhams. The other popular line is 16, which is destined for the train station .
travel by train
This service is very comfortable and fast. It is also the most recommended in Morocco and has stops in several major cities in the country.
What interests us is Fez, which has its stop in the most modern area of the city. You will also find bus stations to continue with the tour. The routes that involve Fez are:
• Train from Marrakech to Fez.
• Duration of trip: 7 hours and 10 minutes,
• Price: 295 DH
• Train from Casablanca, Casa Voyageur to Fez
• Duration of trip: 4 hours
• Price: 65 DH
more information can be found on the own page of the train company in Morocco ONCF.MA
What to do in Fez Morocco?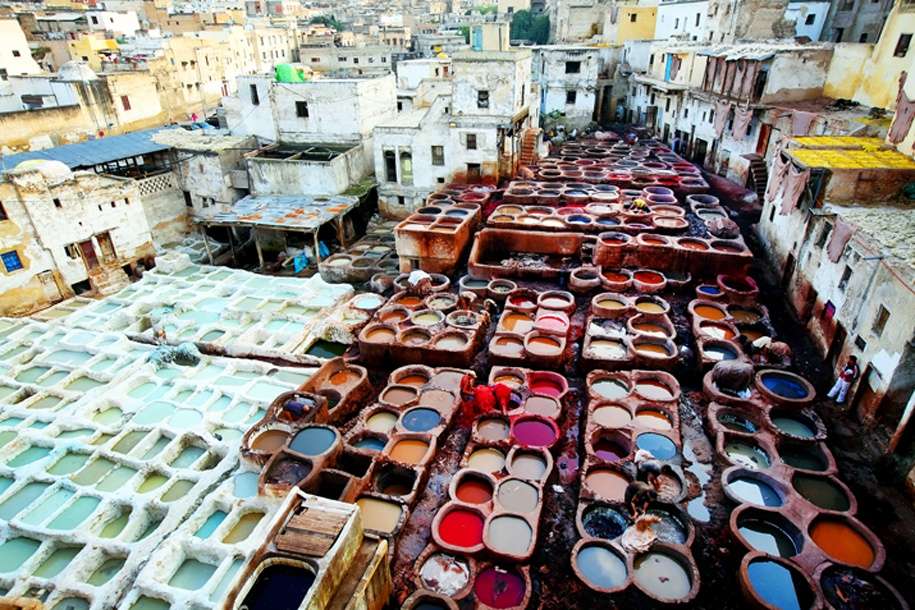 You can start by relaxing in the gardens of Jnan Sbil , one of the most tranquil areas of Fez, Morocco. This place was recently restored, but it was created in the 18th century. It consists of a space with more than seven hectares, composed of beautiful flora and vegetation.
Another ideal place to spend a pleasant time is between Fez-el Bali and Fez-el Jdid . Two zones that have been divided, but unite their numerous offerings. The first is the main medina and the second arises from the division due to an expansion.
Although Fez-el Jdid is not new, it has been named the modern area of the city. Ideal for its inhabitants and tourists to travel comfortably.
Fez cuisine
Morocco produces a wide variety of Mediterranean and even tropical fruits and vegetables. The most common meats include beef, mutton and lamb, chicken, camel, rabbit and seafood, which serve as the basis for your cuisine. Characteristic aromas are lemon pickles, cold-pressed unrefined oil and dried fruit. It is also known to be the most heavily spiced Middle Eastern cuisine.
Lunch is the main meal, except during Ramadan
A typical meal starts with a series of hot and cold salads, followed by a tajine. Moroccans most often eat with their right hand and use bread as a utensil. Often, for a formal meal, a dish of lamb or chicken is followed, usually accompanied by couscous topped with meat and vegetables. A cup of tea with very sweet mint usually ends the meal.
The consumption of pork and alcohol are considered haraam, and are prohibited by Muslim food restrictions.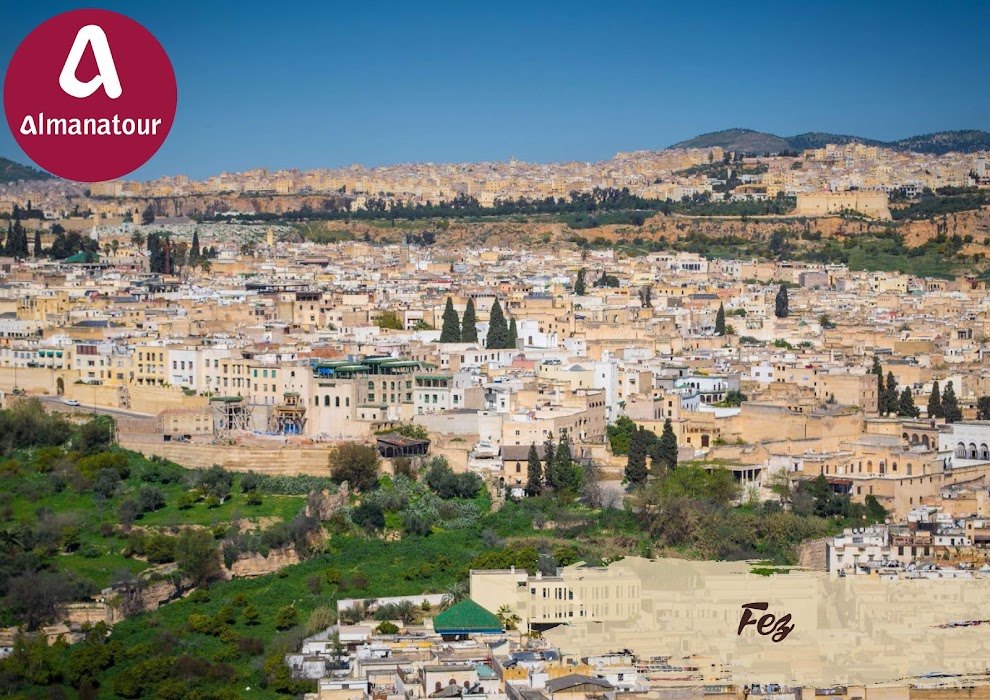 attractions
Juderia
The Jewish Quarter may be an option for you. In this place you will find modern and old buildings, and you will see their contrast. Mellah is the name of this neighborhood which means "Salt" in Arabic, which refers to a commercial currency from years ago.
This neighborhood follows the original tradition, which is characterized as a trading area for jewelry and precious metals. Walking through this area is a different route to do in Fez.
The Souks of Fez el-Bali
The souks of Fez el-Bali are an excellent place to wander aimlessly. This activity represents a good exercise and distraction for the tourist. You must know that these streets have no order and that the crowd is rampant. This can cause stress, so make predictions.
Mausoleum of Moulay Idris II
Another thing to do in Fez is the Mausoleum of Moulay Idriss II, which was the sanctuary of the King of Morocco during the years 807 and 828. This king is the most revered and Morocco are thousands of Muslims who pay tribute. This museum is much visited due to the influence that this king has on his parishioners.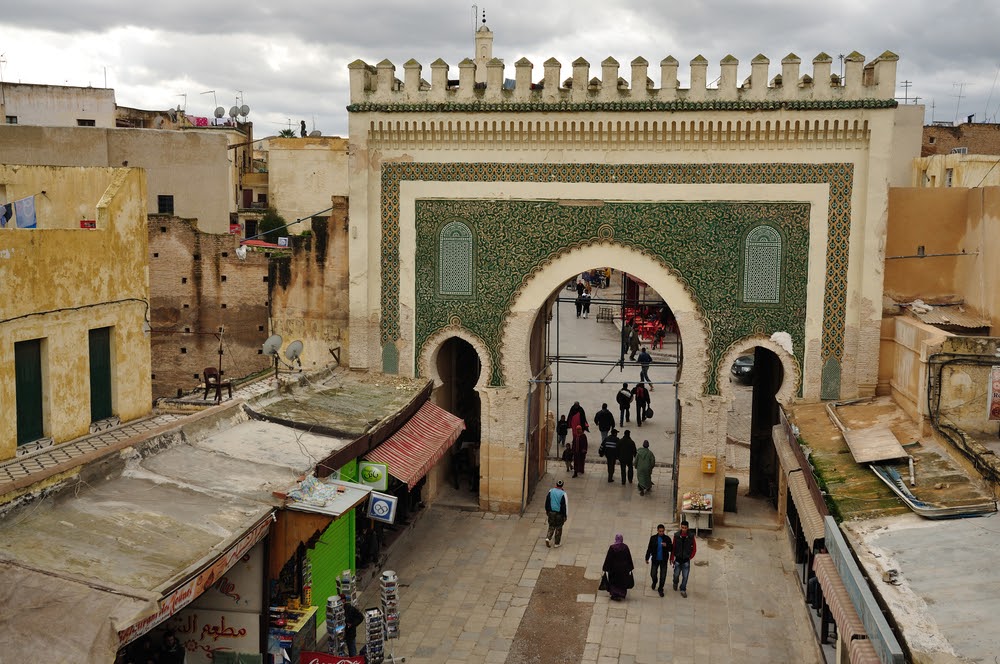 Al Karaouine Mosque
On the other hand, the Al Karaouine Mosque is a place of prayer where Muslims gather. It was founded in the year 859.
This mosque is also known as Qaeawiyyin and is a beautiful architectural complex. This place is the oldest university in the world.
It is considered the place of learning excellence in the Islamic community.
The door of Bad Bou Jeloud
You will also find a main access to the Medina Fez el-Bali, known as the Bad Bou Jeloud gate.
This is the oldest and at the same time the most charming area of the city.
It is described as a monumental gate that was built in 1913 and consists of three completely symmetrical horseshoe arches.
It has a beautiful decoration and design made up of blue tiles.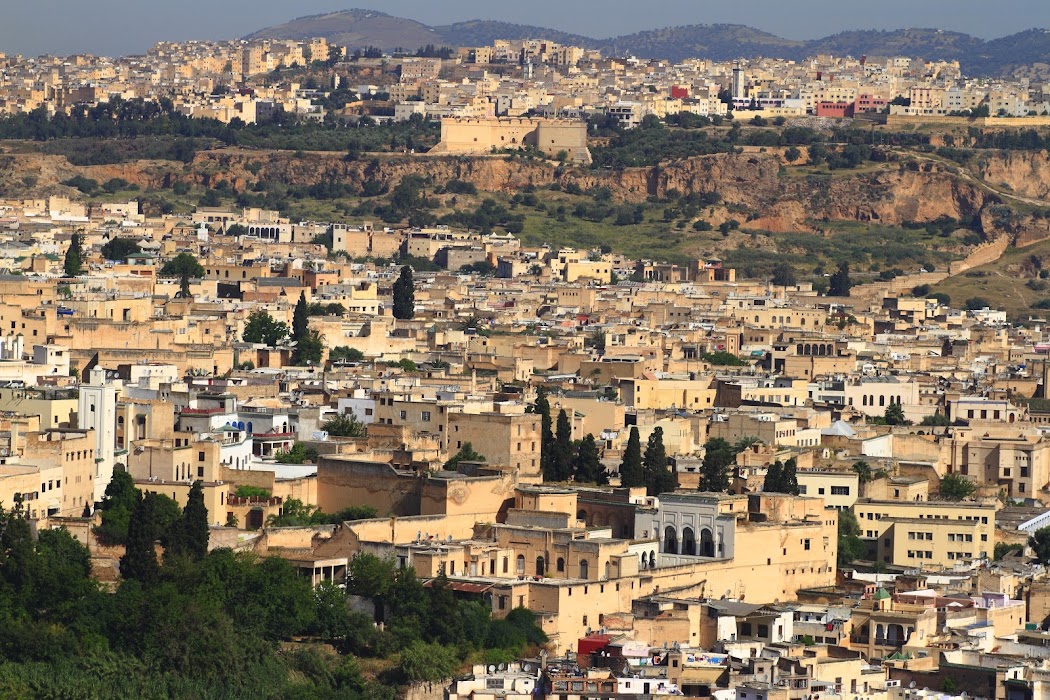 Recomendações finais
You may or may not choose to hire a guide who can guide you on your route without using a map. That will depend on your interests, in my opinion getting lost in these streets gives more excitement to the trip and you will see it from another perspective. On the other hand, the medina is huge and difficult to get around.
Important: Fez guides , if hired to accompany you on a visit, will definitely take you to a store to shop.
Let him know before booking if you do not want to buy, as the price of the cultural visit (without shopping) is more expensive, as he will not charge any benefit from the commission of your purchase in any store, this practice is very common throughout Morocco .
Still, visiting Fez with a good guide will make your tour a great day.
We recommend that you dedicate a full day or at least a whole morning to visit the city.
If you want, Almanatour Morocco can help you organize your itinerary to Fez and Morocco
Check here for more information about Morocco in our Morocco travel guide